Gluten-free baked beans are a delightful twist on a classic comfort food dish, making it accessible to those with celiac disease, gluten sensitivity, or anyone looking to avoid gluten. These beans are typically prepared using naturally gluten-free ingredients and careful attention to avoid cross-contamination. The heart of the dish is the choice of beans; options like navy beans or great northern beans are perfect for creating a creamy and satisfying texture.
To craft gluten-free baked beans, you'll want to be cautious when selecting your seasonings and sauces. Many canned baked beans contain ingredients that may contain gluten, so it's important to opt for gluten-free alternatives for ketchup, Worcestershire sauce, and any other condiments or flavorings you use in your recipe. Thickening agents like cornstarch or gluten-free all-purpose flour blends are excellent substitutes for wheat flour, ensuring that the beans achieve the desired consistency without compromising their gluten-free status.
Gluten-free baked beans can be seasoned with a variety of herbs, spices, and sweeteners to suit your taste. Whether you prefer a tangy, smoky, or slightly sweet flavor profile, there are plenty of gluten-free options available. This dish is not only safe but also delicious, making it a fantastic addition to a gluten-free diet and a comforting, flavorful meal for everyone to enjoy.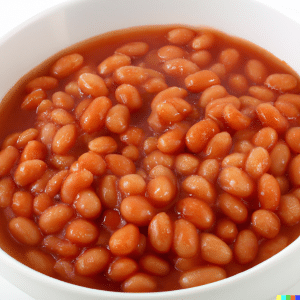 Gluten-Free Baked Beans
Gluten-free baked beans are a classic and comforting side dish that can be enjoyed on their own or as a complement to various meals. This recipe uses canned navy beans as the base and combines them with a savory and slightly sweet tomato-based sauce.
Ingredients
4

15 oz cans

navy beans, drained and rinsed

1

medium

onion, finely chopped

1/2

cup

molasses

1/4

cup

brown sugar

1/4

cup

ketchup

make sure it's gluten-free

2

tbsp

mustard

check for gluten-free certification

2

tbsp

apple cider vinegar

1/2

tsp

salt

1/4

tsp

black pepper

1/4

tsp

smoked paprika

optional for smoky flavor

4-5

slices

gluten-free bacon

check the label for gluten-free certification, optional for added flavor
Instructions
Preheat your oven to 325°F (163°C).

If you're using bacon, cook it in a skillet over medium heat until it's slightly crispy. Remove the bacon from the skillet, blot it with paper towels to remove excess grease, and chop it into small pieces. Set aside.

In a large oven-proof Dutch oven or casserole dish, combine the drained and rinsed navy beans and finely chopped onion.

In a separate bowl, whisk together the molasses, brown sugar, ketchup, mustard, apple cider vinegar, salt, black pepper, and smoked paprika (if using).

Pour the molasses mixture over the beans and onions. If you're using bacon, add the chopped bacon pieces to the mixture as well.

Stir everything together until the beans are coated evenly with the sauce.

Cover the Dutch oven or casserole dish with a lid or aluminum foil.

Place the covered dish in the preheated oven and bake for 1.5 to 2 hours, or until the beans are tender and the sauce has thickened, stirring occasionally.

If the sauce thickens too much or the beans become too dry during baking, you can add a little water or gluten-free broth to reach your desired consistency.

Once the baked beans are done, remove them from the oven and let them cool for a few minutes before serving.
Serve your gluten-free baked beans as a side dish at your next barbecue, picnic, or family gathering. They're a flavorful and satisfying accompaniment to various main dishes. Enjoy!