Gluten-Free Dairy-Free Cheesy Cauliflower Dip is a mouthwatering and nutritious twist on traditional cheesy dips, specially crafted for individuals with dietary restrictions or food allergies. This delectable dip replaces the dairy with creamy cauliflower as the star ingredient, providing a rich and velvety texture without the need for cheese or milk.
To make this dip gluten-free, gluten-containing ingredients like wheat flour or certain processed seasonings are omitted in favor of gluten-free alternatives. Cauliflower is roasted or steamed until tender, then blended with ingredients like nutritional yeast, which lends a cheesy flavor without any dairy. Other flavor enhancers like garlic, mustard, and a touch of lemon juice add depth and zing to the dip, creating a savory, well-balanced taste.
The result is a luscious, cheesy dip that's not only safe for those with gluten and dairy sensitivities but also packed with nutrients from cauliflower, making it a healthier alternative to traditional cheese dips. This dip is a fantastic addition to any appetizer spread, offering a guilt-free indulgence for those seeking a creamy, cheesy experience without the worry of dietary restrictions. Whether served with gluten-free crackers, vegetable sticks, or tortilla chips, this dip is sure to please both those with specific dietary needs and anyone looking for a flavorful snack or party appetizer.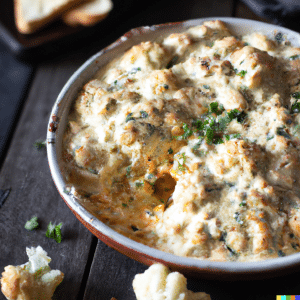 Gluten-Free Dairy-Free Cheesy Cauliflower Dip
This gluten-free and dairy-free cheesy cauliflower dip is a creamy and flavorful appetizer that's perfect for parties, game nights, or any occasion. Instead of traditional cheese, it uses a creamy cauliflower and cashew-based sauce to achieve that cheesy flavor and texture.
Ingredients
1

small cauliflower head cut into florets

1

cup

raw cashews, soaked in hot water for 15 minutes, then drained

1/4

cup

nutritional yeast

for a cheesy flavor

1/4

cup

gluten-free vegetable broth

2

cloves

garlic, minced

2

tbsp

lemon juice

1

tsp

onion powder

1/2

tsp

smoked paprika

optional, for a smoky flavor

Salt and pepper to taste

Fresh chives or parsley for garnish

optional
Instructions
Preheat your oven to 400°F (200°C).

Place the cauliflower florets on a baking sheet, drizzle with a bit of olive oil, and season with salt and pepper. Roast in the preheated oven for 20-25 minutes, or until the cauliflower is tender and slightly browned.

While the cauliflower is roasting, make the creamy sauce. In a high-speed blender, combine the drained cashews, nutritional yeast, gluten-free vegetable broth, minced garlic, lemon juice, onion powder, smoked paprika (if using), salt, and pepper.

Once the cauliflower is done roasting, remove it from the oven and let it cool slightly.

Add the roasted cauliflower to the blender with the other sauce ingredients.

Blend everything until you have a smooth and creamy sauce. You may need to scrape down the sides of the blender and blend again to ensure a consistent texture.

Taste the sauce and adjust the seasonings, adding more salt, pepper, or lemon juice if needed to suit your taste.

If the dip is too thick, you can thin it out with a little more vegetable broth.

Transfer the cheesy cauliflower dip to a serving dish.

Garnish with fresh chives or parsley if desired.
Serve your gluten-free dairy-free cheesy cauliflower dip warm or at room temperature with your choice of gluten-free crackers, sliced vegetables, or tortilla chips. Enjoy this creamy, cheesy-flavored dip without dairy or gluten concerns!