THIS vegan burrito recipe is everything.
Everything. I often explain how to make this vegan burrito recipe to people and it sounds absolutely disgusting to them… and to me for that matter. It does not sound appealing. I often feed this to people and they can't wait to find out how to make it. This vegan burrito recipe has amazing energy boosting powers and it's DELICIOUS. No joke. This is the perfect snack to take on adventures of any kind or to eat before a heavy workout.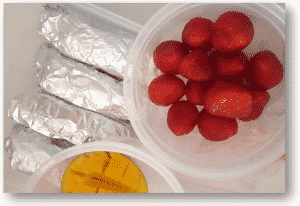 My husband is my biggest critic, especially when it comes to food. He actually doesn't even like food in general, to him it's just a necessary part of life and he can't wait till it comes in pill form, lol. So when he likes something and requests it again and again, I know it's a tasty meal! He mainly likes to have it before he hits the gym or if he's going to be out of the house for the day.
I also feed this vegan burrito recipe to my guests when they come by to go swimming. And as always they want to know what's in it. So I am going to now share my Energy Packed Vegan Burrito Recipe with the world via Happy Healthy Hub because this recipe will legitimately make you happy and healthy! Don't mind my lame photos, I was running late to a pool date…
Vegan Burritos Recipe Gluten-Free Ingredients
Tortillas
White Sweet Potatoes
Quinoa
Avocado
Broccoli
Cholula
Vegan Burritos Recipe Directions
Cut sweet potatoes into thirds and steam.
In the same steamer, steam your quinoa and broccoli. *You want to steam the broccoli until it is a darker color and mushes when touched.
Grab your favorite vegan tortillas, cook both sides on stove top until they are hot and floppy (not crispy). –Like my technical terms?! 😉
Slice your avocados.
Mush steamed sweet potatoes.
Lay out your tortilla, spread a layer of sweet potatoes, a layer of quinoa (I do this second because it can pack into the potato, quinoa can be messy), a layer of broccoli. Line broccoli down the length of the tortilla (as if to get it in every bite). After placing the broccoli in the tortilla, lightly mash with a fork into the other food. Believe it or not, this makes the burrito.
Spoon 1-2 tbsp. of the salsa and mush in with the other food.
Sprinkle the Cholula to desired taste over the salsa and also set it into the other food with fork (lightly).
Fold up and eat!
*To really taste the amazingness of this recipe make sure you follow the recipe exactly. Different salsa, a different color sweet potato, or even non-mushy broccoli kills it. It's pretty good with any type of tortilla though, that's why I didn't specify.
Enjoy!