Get ready for the easiest recipe of your life!  When you hear vegan and/or gluten free, most tremble with fear that it will either be challenging to find, cook or to enjoy, lol. But it doesn't have to be! Read below on how I whipped up some ultra delicious vegan gluten free pancakes made from all-natural, healthy ingredients. 
Vegan Gluten Free Pancakes Ingredients
These vegan gluten free pancakes are as easy as 1-2-3 because it only takes 3 ingredients to make the batter! Hooray!
1 cup of Garbanzo Bean Flour
1 medium sized Banana
1-2 tablespoons Filtered Water (you will have to use your judgment here)
I added some fun topping to make this a mouth-watering dish, see below.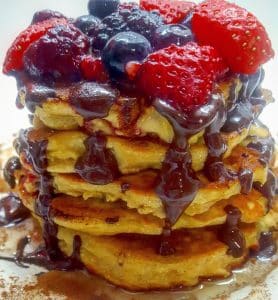 Organic Blue Agave Sweetener
Strawberries
Blueberries
Blackberries
Raspberries
Dark Chocolate
Coconut Oil
Cinnamon
Vegan Gluten Free Pancakes Instructions
Cut up your fruit, any way that you'd like, set aside.
Heat a skillet on medium heat with plenty of oil. I've been trying not to use oil where I can but this recipe needs it IMO.
Pour 1 cup of the garbanzo bean flour in to mixing bowl.
Mash a banana into the flour.
Pour in 1 tablespoon of filtered water, start to mix and add water as needed. The dough should not be too dry or to runny.
Pour small spoon-sized amounts of batter at a time onto the skillet to make one pancake, flattening and maneuvering as needed to make them circle-shaped. You'll need to do this quickly because then pan is hot and the batter will start cooking right away but it's pretty easy. I made mine a bit thick and the thinner ones actually were much better, so do a thin amount.
Watch the batter closely, one the bottom edges are golden and you can hear and smell that they are cooked, feel with your spatula underneath. If you can slide your spatula under, go ahead and flip. You only want them slightly golden.
Once you have a nice stack of vegan gluten free pancakes, go ahead and get some of your dark chocolate and either melt in a microwave safe bowl in the microwave or melt on the stove top. I was lazy and did the microwave.
Vegan Gluten Free Pancakes Topping Instructions
Pour a zigzag line of the organic blue agave sweetener on each pancake in the stack.
Then pour your melted chocolate over the top of the pancake stack.
Push some fruit pieces on to the top of the stack, causing the chocolate to drip down the stack even more!
Sprinkle with cinnamon.
Enjoy! Want more dessert-like recipes? Check out this yummy summer fruit bowl!