You may have heard that dental assisting can be a stimulating career for the right person, but are you really ready to make the transition to this field of work? How do you know if attending an Arizona dental school is the right choice for you? A good way to make an educated choice is to weigh the pros and cons of the decision against each other. Take a look at the following list. If the pros outweigh the cons in your mind, then you just might be ready for an exciting new career as a dental assistant.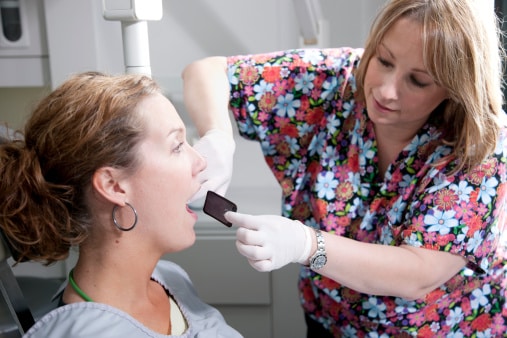 Pro: Lots of Variety and Multitasking
Dental assistants can work in a wide variety of positions, from chairside assistants to business assistants. For many dental assistants, the average workday will be filled with plenty of multitasking and varied duties. Because the job is so varied, the training will require you to learn and master a wide variety of tasks. If you enjoy being challenged on a regular basis with new tasks, then dental assisting school will be a great choice for you.
Con: Not for the Squeamish or Faint of Heart
Dental assistants are part of the healthcare industry, and in any healthcare field, there will always be a certain amount of blood and needles involved. If you get squeamish around blood and medical equipment, then you might want to reconsider your decision to attend dental assisting school. Some dental assistants, however, spend most of their time focused on administrative and reception duties, and will not be exposed to as much of what goes on in the exam room. Instead of dealing with blood, those people must be prepared to deal with distressed or upset patients, and be able to handle stressful situations in a professional manner.
Pro: Good Job Outlook With Plenty of Opportunities for Advancement
If you complete dental assisting school, you'll be trained to work in a field with a great job outlook and plenty of opportunities for advancement. Dental assistant jobs are projected to grow by thirty one percent between 2010 and 2020. Once you start work as a dental assistant, you'll have the opportunity to move up to positions such as office manager, anesthesia tech, specialty assistant, treatment coordinator, expanded functions assistant, or even sales representative. Many dental assistants also retrain in order to move up to positions such as dental hygienist or even dentist.
Con: Lower Starting Wage than Other Careers in the Dentistry Field
Unfortunately, with these good job prospects comes a lower starting wage, at least when compared to other positions in the dentistry field. However, when compared with other forms of employment, the starting wage is still quite reasonable. The average wage for dental assistants in 2010 was $33,470 per year, and more than half of all dental assistants are able to find full-time work. If you're ready for a stimulating and varied work environment, and looking for a career that holds a great job outlook as well as plenty of opportunities for advancement, then consider dental school Arizona training. As long as you're not concerned about having to clean up blood or deal with the occasional distressed patient, you will be sure to enjoy your new career as a dental assistant.